Tray Drying Racks
Tray drying racks hold trays for drying after washing. Metromaxi shelving can be converted by adding these tray/plate drying racks.
Because MetroMax i® Drying Rack combines the corrosion resistance and strength of MetroMax i with the convenience of a drying rack unit that efficiently holds pots, pans and trays  to assure proper air drying and food safety.
Therefore they are perfect for Damp, Humid Conditions: Posts and shelves offer a lifetime warranty against rust and corrosion.  Type 304 Stainless Steel wire drop-in racks offer long life performance.  Furthermore, they are corrosion-resistant, epoxy-coated tray drying racks have built-in Microban antimicrobial  product protection
Versatile:
Additionally, PR48VX3 and PR48X3 models come with two intermediate stainless steel shelves that provide maximum space utilization for pots, pans, and lids. Top shelf features an epoxy coated tray drying rack with 34 slot capacity.   The open grid bottom shelf is great for drying large stock and lobster pans.
PR48VX4 and PR48X4 models come with four epoxy coated tray drying racks. Two with 34 slots at 1-1/8 " (28mm) spacing, and two with 14 slots at 3" (76mm) spacing.  This rack is perfect for steam and bun pans, and one unit can hold up to 96 pans.
Cleans Easily:  Additionally, MetroMax i open-grid shelf mats lift off easily and fit in the dish machine.  Type 304 Stainless Steel wire drop-ins clean easily.
Finally, Microban® product protection is built into Shelves, Posts, and Tray Drying Rack Components: Microban® product protection inhibits the growth of stain and odor causing bacteria. It keeps the product "cleaner between cleaning."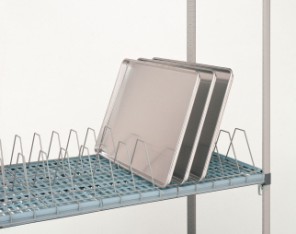 Tray drying racks hold trays for drying after washing. Metromaxi shelving can be converted by adding these tray/plate drying racks.Because MetroMax i® Drying Rack combines the corrosion resistance and strength of MetroMax i with the convenience of a drying rack unit that efficiently holds pots, pans and trays  to assure proper air drying and food safety.Therefore they are perfect for Damp, Humid Conditions: Posts and shelves offer a lifetime warranty against rust and corrosion.  Type 304 Stainless Steel wire drop-in racks offer long life performance.  Furthermore, they are corrosion-resistant, epoxy-coated tray drying racks have built-in Microban antimicrobial  product protectionVersatile:Additionally, PR48VX3 and PR48X3 models come with two intermediate stainless steel shelves that provide maximum space utilization for pots, pans, and lids. Top shelf features an epoxy coated tray drying rack with 34 slot capacity.   The open grid bottom shelf is great for drying large stock and lobster pans.PR48VX4 and PR48X4 models come with four epoxy coated tray drying racks. Two with 34 slots at 1-1/8 " (28mm) spacing, and two with 14 slots at 3" (76mm) spacing.  This rack is perfect for steam and bun pans, and one unit can hold up to 96 pans.Cleans Easily:  Additionally, MetroMax i open-grid shelf mats lift off easily and fit in the dish machine.  Type 304 Stainless Steel wire drop-ins clean easily.Finally, Microban® product protection is built into Shelves, Posts, and Tray Drying Rack Components: Microban® product protection inhibits the growth of stain and odor causing bacteria. It keeps the product "cleaner between cleaning."
Showing all 6 results