Metro qwikTrak
Metro High-Density qwikTRAK, 800-400-7500, can increase the storage capacity of a given area by 50%. Mobile units are positioned between stationary units and an active aisle can be opened between any two units as needed. This efficient utilization of space addresses the storage needs of growing operations and may eliminate the need for facility expansion or renovation.
Mobile shelving units glide easily along aluminum and stainless steel floor tracks.
Floor tracks compensate for rough or choppy floor surfaces.
Double-Deep configurations can be created where two systems are joined together to increase the overall depth of the storage system for greater storage capacity.
Model QT12-43M5-NC shown in the picture measures 12′ long x 4′ deep x 78″ high.  the fixed end units are 24x48x78″h with 5 chrome wire shelves and the 3 mobile units shown are 18x48x76″h with 5 wire shelves each.  The aisle is 36″ wide.
***Due to the complexity and multiple options for this unit please call Marilyn Whetzel at 800-400-7500 or email marilyn@metroshelving.net for pricing or to answer any questions.***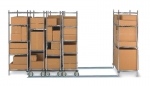 Metro High-Density qwikTRAK, 800-400-7500, can increase the storage capacity of a given area by 50%. Mobile units are positioned between stationary units and an active aisle can be opened between any two units as needed. This efficient utilization of space addresses the storage needs of growing operations and may eliminate the need for facility expansion or renovation. Mobile shelving units glide easily along aluminum and stainless steel floor tracks. Floor tracks compensate for rough or choppy floor surfaces. Double-Deep configurations can be created where two systems are joined together to increase the overall depth of the storage system for greater storage capacity. Model QT12-43M5-NC shown in the picture measures 12' long x 4' deep x 78" high.  the fixed end units are 24x48x78"h with 5 chrome wire shelves and the 3 mobile units shown are 18x48x76"h with 5 wire shelves each.  The aisle is 36" wide. ***Due to the complexity and multiple options for this unit please call Marilyn Whetzel at 800-400-7500 or email marilyn@metroshelving.net for pricing or to answer any questions.***
Showing the single result
| Product Number | Dimensions (D x W x H) | Finish | Shelves | Price | Quantity |
| --- | --- | --- | --- | --- | --- |
| QT12-43M5-NC | 12 | Chrome | | 4321.33 | |